Welcome to the dublab store!
Your purchase goes towards supporting dublab's mission and the programs you love.
For additional products visit us in person, Monday through Friday 10am-6pm at
1035 W 24th St, Los Angeles.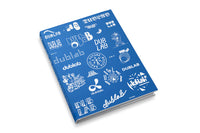 dublab: Future Roots Radio
dublab: Future Roots Radio bends time and space through sound. Founded in 1999, dublab has been streaming far-out music since the dial-up age. We travel back to the dawn of Internet radio—a pre-podcast/smartphone/social-media era with infinite potential and flash forward for premonitions of other worlds, other sounds.
PURCHASE HERE
Algorhythmic fatigue? Support dublab's programming!
dublab is a listener-powered, volunteer-run, 501c(3) non-profit radio station and creative hub operating from Los Angeles since 1999.
Consider making a one-time donation to help sustain dublab's community-driven mission to provide a high quality, non-commercial public platform for ephemeral freeform expression. Your support directly provides the resources for positive creative cultivation.